This was so funny what happened to Petals. Well, I'm sure Petals didn't think it was funny, but we did.
First off, I got tired of my livingroom furniture this weekend and needed a change, so I started moving things around to something like this.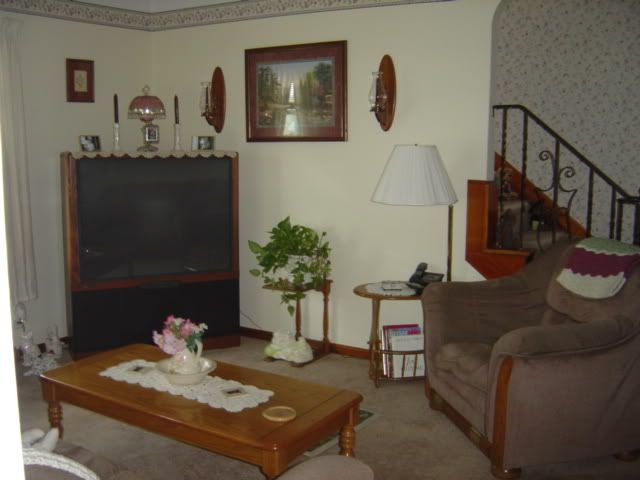 Now, the sofa used to be over where the chair is now by the steps. Petals would come down the steps, climb through the rails onto my shoulder, then to my chest where she'd lay down. That was always where I sat. Well, she must not have realized that we moved the furniture.
To make this make more sense, Petals is VERY skittish and loves her poppa but never sits on him, etc.
She came strolling down the steps as always, came through the railing onto Jerry's shoulder, (he was sitting in his chair), circled once or twice like always and PLOPPED down onto his chest/belly. She licked one paw, looked up at his face and ZIPPED
off like it was a total stranger. I was watching from the sofa on the other side of the room.
My poor baby!
It was the funniest thing we'd seen in a while.
She came peeping out from behind the chair and looked up at him like, "what are you doing there?" and glared at us both
and wandered off to the bedroom!