Want to see the winner of the 2006 NZCF National Cat show? Over 550 cats there and she was TOP!
Well it's my friend Sue's kitten - her name is Wishingwell Split Endz and she is a Brown Tortoishell Classic Tabby Exotic Shorthair (Same as Sophie & Bridget)
Here is a photo taken of her at Taranaki show just a couple of weeks before -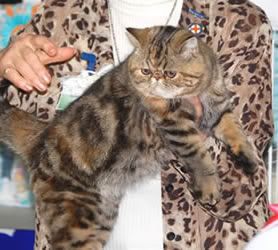 To achieve winning SUPREME overall she got three best in shows out of six. Including winning both of the two national rings and then she got supreme longhair.
This was one of the best weekends in my life. (I didn't have any of my own here but this was just as exciting!)