Today, at lunch time, I hosted a baby shower for my co-worker. There were 6 guests, including the new Mom-to-be. We had a Hello Kitty cake, lots of pink streamers, and a sign that read "It's a Girl"!
The party favors were little gift boxes containing a piece of taffy and a gray gummy rat. There were also little kitkat bars wrapped in pink and white ribbon.
The person we honored was totally surprised by the party and the gifts she received. She is looking forward to finalizing the adoption of her new baby girl tomorrow. None other than Sarabi's daughter Zazzou!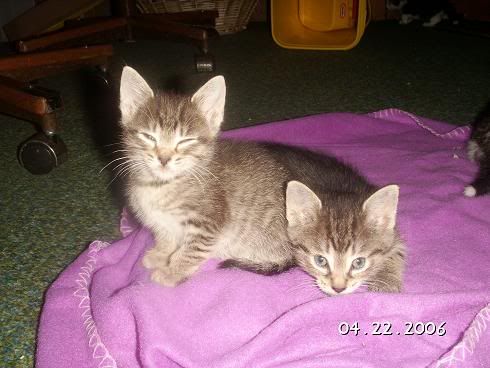 This is her laying down next to her sister Spazzou who is sitting up. All of this litter have been adopted except Pumba, a gray fuzzy girl.
The party caused quite a buzz in the office, that a young lady who is engaged to be married in November was having a baby shower...a baby kitten shower, that is!