We are having the worst time with brown recluse spiders this year. We moved into this house in November and I have never seen so many in one place!! I have been told that b/c they are so territorial that you usually don't see more than one or two in an area, but I'm killing 3-4 a day!! We've put glue traps in the few places that Madden can't get under, but they don't seem to be helping!!
Hubby got bit, so we had to make an emergency trip to the hospital, to pay a butt-load for a steriod shot and some antibiotics. Not to mention the fact that he had to miss work b/c you can't be in the sun with the meds and he's a roofer.
I read online that these bites can be fatal to dogs and cats, and I keep finding Madden chasing them around! I can't watch him all the time and I'm terrified that he's going to get bit and get very sick from it. Not to mention the dogs. I've never been bit, and this was hubby's first time but my mom has been bit by them twice before and I know that these bites can go from bad to worse in no time flat. Luckily we caught and treated hubby's as soon as we noticed it and a week later its almost gone.
I've read that once these buggers establish a territory (your house) that they are almost impossible to get rid of, but if anyone knows any tricks I would really appriciate your help. I know they are only in the mid-south, but I was hoping someone might know something about them.
Here's a pic of hubby's nasty bite the night that he got bit: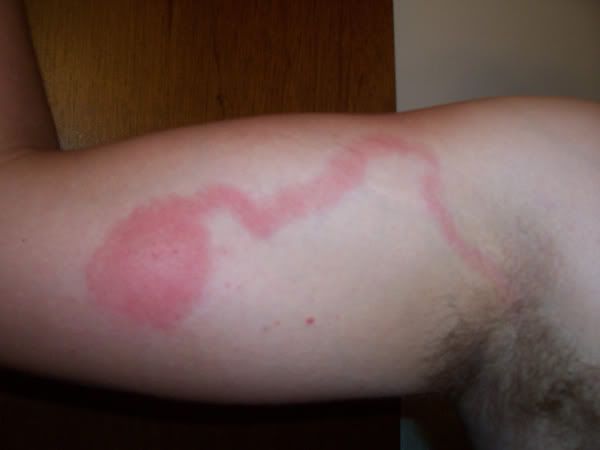 You can't see it very well in this pic, but the streak goes all the way into the middle of his arm-pit. He also had a nasty rash on his tummy from it.
I can't help but shake out the bed-covers every time I crawl in now...and the towels....and my clothes....and my shoes....