Hmmm ok..I have a few questions. If any of you remember me. I had taken in a stray(Squiggles) in about Feb of this year. She had one kitten Squeeky in March. Well, Squiggles is going for her spay in about 3 wks. As Squeeky is FINALLY becoming more dependant, and finally weaning...He was such a momma's boy..And still is..
But she is going in 3 wks, and he is going in about another month , when he will be almost 5 months old..
I got up this morning just like any other morning. And dropped my son off at school. When I got to the school, a nice woman pulled up beside me to drop her little boy off. Well I looked over and seen a torti-adult cat in her car. Didnt think much of it, And proceded to get my son out. When my son said ,"mommy there is a orange kitty just like the one we had that died". So I look over and realize the car was filled with kittens. So I asked if thats how she always drove around, and she said yes, unfortunitly she has to keep them all in the car because her boyfriend has allergies..
SOOOO....after we get the talking, and I get the "looking" I notice that there is atleast 4 kittens. And the momma. She said they were 9 wks old.
I got the orange one out and started holding him, and my heart was STUCK..there was NO WAY I could leave that kitten in that car.
I asked her if she was getting rid of them, and she said she already got 1 to go to another home, and yes, anything to get them out of the car. She says that she sometimes can bring them into a hallway at her place. But that her boyfriend still complains...But its 80 degrees outside. I believed her though, seeing the litterbox, etc in the car...
There was 2-3 blk kittens, and another torti kitten as well..Being that Squeeky is blk, I kind of wanted the orange and torti instead. But I decided to try it out with the orange one. So I brought him home, and washed him up alittle. Didnt see fleas, but he had some ear dirt, etc..She said they were only on dry food, plus their momma..So I put both wet and dry down, and he ate for 45 minutes...I feel so bad , specially after I saw him eat like that..
Im pretty sure he is a boy. And my plan is to get him fixed as well when the time comes. I called the vet and have an appointment with him in 2 days. I introduced the cats, only because they were clawing at the door to see who I brought in, but I didnt let much interaction or touching till I take him to the vet..
I almost want to see if I can take all of them, or atleast the torti..OR SOMETHING. But I dont know what the cat limit really is. I know there isnt one, but I do only have a 2 bedroom apartment. I just cant go on knowing their in that car. She said she was gonna take them to petsmart or somewhere like that and just give them to a petstore, we also talked about shelters. And she says she is getting momma fixed..But geez. MY only concern is I run back to get another..And a yr from now I see the same problem, and eventually cant take anymore. I know I cant save the world...Any suggestions??
I know this was long and Im sorry...Its just really bothering me
She was a really nice woman, and she did seem like she had feelings, so Im not trying to bash her. I just think things got out of control, and she is stuck. Yes I can try to persued her more about the shelters, but one is only gonna do what they want. Thats why Im not sure if I should atleast just go take another one or what....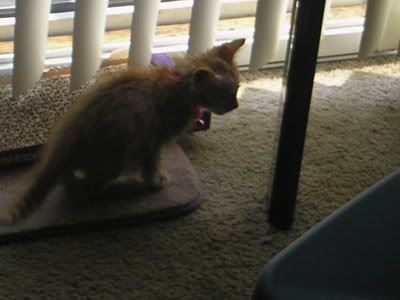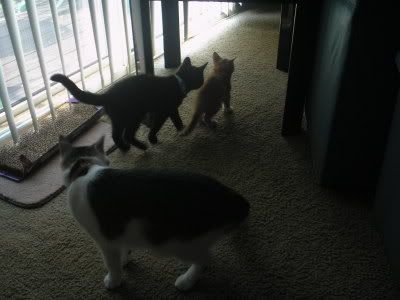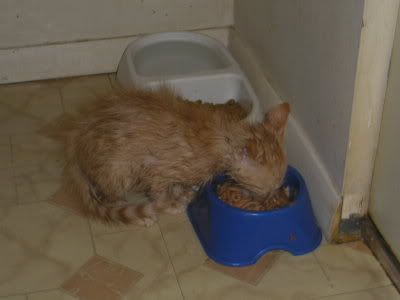 P.S Please excuse the "pink" collar , specially if he is a boy. But it was the only one I had on hand..And I love the bells. Or else I would loose my mind if I couldnt hear one in my room