Pudges love to be in small spaces.
A sock darwer at room temperature is not only an ideal space to store a Pudge, but an ideal play spot as well, if you dangle a fake mouse on a string in front of it.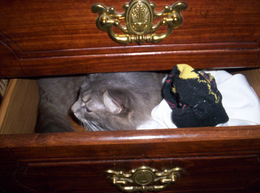 Every once in a while, your Pudge may take a break from sleeping and playing to bounce out of the drawer and stick her nose in your eye. Do not be alarmed. This is perfectly normal.