Well looks like my camera is finally going to work
So got a lot of pics to post, here and in the Fur pics only.
First is the night of the promotion, which means he is now going to be in 7th grade, and wow-do I feel old!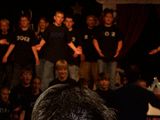 My mom, my son, and I.
Then hes got to show the $$$ off
Sorry they arent really "in order" but thats the way I d/l them. Hope ya enjoy.