Well I am very new here, I have two, yes TWO pregnant outside cats and one male. I am a mother of two daughters, one 4 yrs. old, one 8 months. Here is the story of the cats that I "adopted"
I had a new neighbor who had a pregnant cat. She had her kittens(4) under my porch. The neighbor tried several times to retrieve them and take them home but of course momma kitty kept bringing them back. What drew the kittys out from under my house was a rain storm one night. Omgosh they were soo cute lol.
Well, I tried repeatedly to get the neighbors to take thier cats back but they wouldn't. They wouldn't feed them either and I have too big of a heart to ignore that so I started feeding them( I know, bad idea!). The neighbors moved, took momma cat and ONE KITTEN. Leaving me with the other three.
I ended up keeping them, we tried to make them inside cats but they had already been outside too long that they wanted nothing to do with couches and countertops lol.
Currently both females are pregnant and bout to have babies. When they do have thier babies I will be getting them fixxed. I wanted to wait till they atleast had one litter each. Here are my feline babies...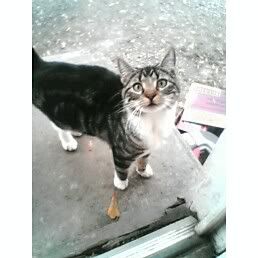 This is one of the females. She is about to POP! She was our skittish one, very shy but she has come around alot.
Here is our other female, she too should soon pop lol. She isn't so much loving as she will let my daughter do what she pleases with her. I have several times had to tell Holly to "Put that cat down!" lol.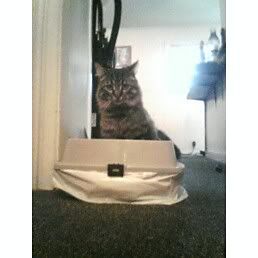 This is our male and he is VERY loving. He is the only one with an official name...Lovecat Jr. (named after a beloved and missed Male cat who was a lover not a fighter) He is the type of cat that if you stop petting him he will bite you lol. He is also protective of his wominz and porch lol.
Anyways, that is my story and I hope I can gain lots of useful info on things that I might need to know for future use. I love animals and my goal is to be a vet tech. Working towards that soon hopefully.