Sorry to make two threads in a day, but I just realized, my cat's ears are balding. Or what seems like balding. I'm away at college the whole week, and only on weekends I'm home, so I didn't notice sooner, I guess. She's a domestic short-hair, so the back of her ears have always been very short and smooth little hairs. While she's still got hair on the back of her ears- it seems to be thinning out. I don't know if it's due to summertime and her fur naturally thins out, or what. Her living conditions have been the same ever since we got her as a kitten, and she's been eating the same food we started her off with. Here's two comparison pictures:
This was maybe... a month ago: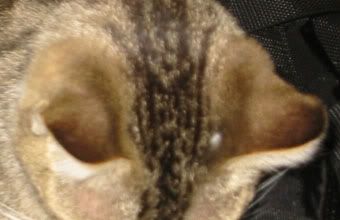 And this was just taken yesterday:
those two white spots you see in the second picture- I don't know whether it's balding, or she's always had them and I just never noticed. Ack. Does it look like skin allergies or something like that to anyone? The inside of her ears are always clean and pink, so I don't see it as mites or ticks.