Hello all,
I've been on line for a week now and sorry I haven't written sooner. I have been preoccupied with bobcats. I am having to reinforce my enclosure to keep them out. I am serious...
Before I elaborate, here's JJ exercising his brain.....
He is a chunk and totally spoiled. He enjoys sitting on our chests when we are watching tv. If he wants attention, he puts his big old paw on our face and touches us. He is so smart. He has also quit trying to kill the dogs. He actually lays by Muffin now. Occassionaly he gets that look in his eye if WE correct the dogs. He wants to help us because he actually considers himself the "boss pet". The others don't mind....hehe
Now......the bobcats... We have a family of bobcats... The other night the dogs were outside and raising cain. I don't usually pay attention because Molly barks at the wind. And so does Muffin. But emma was barking as well so I told her to hush........and she didn't... So I got the flashlight and went outside. It was around 7:30pm and dark. I figured I would see an opossum or something similiar. I shone the light toward the woods in an area that lit up approx 50 yards away and my light pinpointed on some cat eyes. Or that's what it looked like. I thought I imagined it. I kept moving the light in the general area and I caught the glint of cat eyes again. I kept the light in that one spot and watched the "eye lights" appear and disappear.. The dogs were going nuts... And I could not shake the feeling that it was unreal. It was a surreal experience to be exact. My heart was pounding. Suddendly the eyes started moving. They moved crossways from where I was standing. And two more sets of eyes came into view as well. Since bobcats are solitary animals, this has to be a mama and her babies. I watched them watch me as they went across the yard. The hair on the nape of my neck actually stood up. I walked weak kneeed [rapidly]to the house and called the dogs in scared to death and freaked out. We had suspected mountain lions in the area due to a few large prints we had found. We had found a bedded down area last month behind the dogs yard where "something" was bedding down at night in direct view of the cat enclosure. It left three large 4 feet wide spots in some tall grass. Much like cats bedding down in hay make. That's what it looked like. I would have thought deer but there were no deer prints.
Also......the neighbor the next door a mile or 1/2 mile down the road told my husband she saw a big cat that she thought was a bobcat. And that was the same night I saw the eyes. Since mountain lions are rare in Missouri I am "assuming" it was bobcats... It is hard to say without positive proof.
Husband and I went walking to see what we could see in the wilderness behind our house further back on our property. We found a possum skull buried in the dirt and leaves that something had killed. We also found possible dens... and we could see where something had been laying against some large rocks. We have rocks large as a huge kitchen table out back.
But anyway we have decided to buy a hunters motion detector camera and bait an area way back behind the house and set the camera up and see what is out there. If it is a bobcat we can handle that... We just put a different sort of roof on the enclosure. If it is a mountain lion, I will have to take differnt measures and relocate the animal if I can catch him in a live trap. But if it turns out to be a mountain lion, we will have to buy a gun for our walks. I would hate to shoot anything but we are a little fearful.
I believe it is just bobcats. Right now I am keeping a flood light on at night on the cat enclosure and keeping a radio blaring outside creating noise. So with the noise and light, they should stay away till we get a differnt type of roof. Right now it is chicken wire. They are fixing to have a tin roof...
Here's one of the small dens we found. The way the ground is, we could not see prints. Something lives here but it wasn't home. Whew. We took walking sticks with us. One is a big cedar limb with nail driven through the end to use if something attacked us.
This a huge huge rock taller than us and something has been resting here consistantly.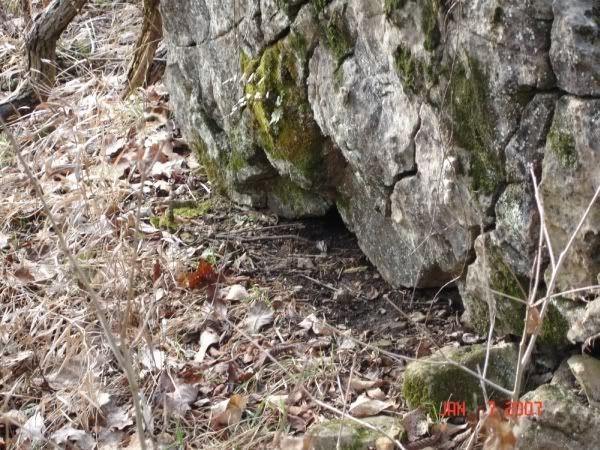 And this is the oppossum skull we found. This skull was buried like cats do. Bob cats and mountain lions. Something else we have noticed is the large game in the area is gone. No more deer and no more hogs. Something drove them away. We are just not sure what but "something is in the woods"....
Everyone else is doing good. Great in fact. We're all fat and sassy....!!
Take care all,
Jenn and the gang