Here's the latest JJ update. I let him out today while I cleaned his room up and took a few pictures before I put him back in his room. I am attaching the pics.. He seems to be doing ok, but his leg will never be the same. He will more than likely always be an inside kitty from now on. We have the new yard laid out. The last week I have been driving T-posts. We are putting 4x4's in all the corners to make it secure. The dog yard is huge. The kitty enclosure is 20 x 10. Should have it completed in a week or so.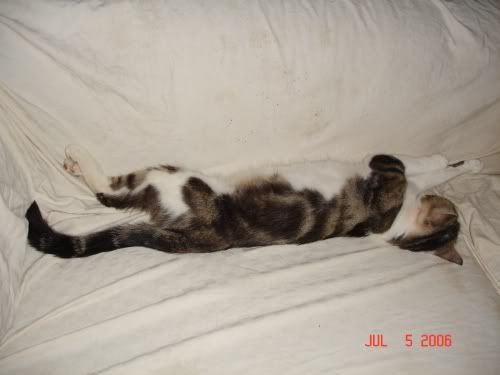 Don't get the wrong idea. JJ rests all the time in his room except for a few minutes a day when I hold him. This is the first time I have let him on the floor in approx a week .......
I hope he keep getting better. He doesn't appear to be in pain at all.
Jenn
p.s. The vet did not xray his toes. I have thought that maybe they are broken? I woder if I put a popcycle stick and taped it in might help it to heal straight if it is broken. Any thoughts on this. All that might happen is JJ would take it off........What do yall think?