I was out working out in the yard and I hear, "tinkle, tinkle, tinkle" coming up behind me. Next thing I know, there is this little Jack Russell mix dog wagging it's little tail at me!
Very friendly little guy. I pet it for a minute to just make sure it was as friendly as it looked, and then read it's dog tag. Well, it's a military dog tag, and had the guys name and social on it.
Didn't do me much good, so I took him in the house with me and looked up the name. The guy just came by to pick him up, very very grateful that we took the time to make sure Toby was ok and didn't get hit by a car or anything. He tried to give me a reward, but of course I said, no, just having him home where he belongs is reward enough.
You should have seen the kits with the dog. Actually, it wasn't as bad as I thought it would be. Trixie puffed all up but didn't run at first. Tiggy and he touched noses!
Now Bailey and Petals were leery! Hey, none of them has ever seen a dog before!
Heres a couple of pics I got before he showed up.
Tiggy and Toby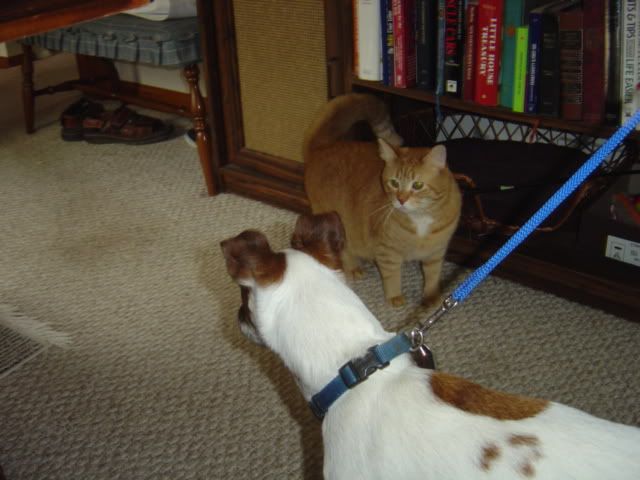 Tiggy, Toby and a VERY CAUTIOUS Petals!!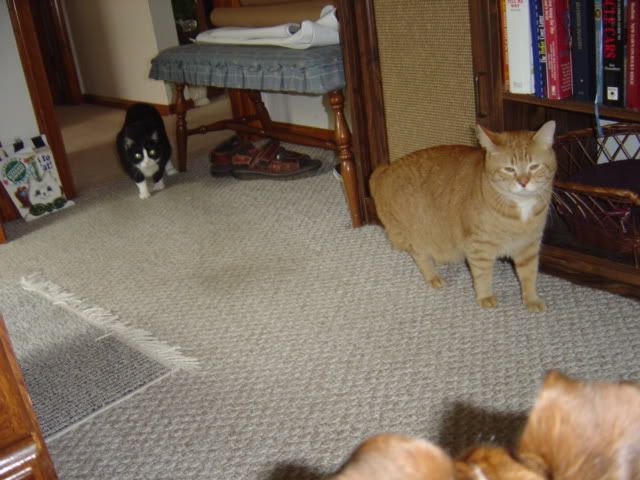 and my two chickens hiding upstairs...observing from afar!!