Our beloved dog Petey passed over the Rainbow Bridge yesterday morning. He was 11 years old.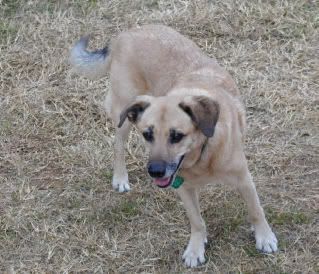 It came on quite suddenly - he went into shock yesterday morning. He'd been fine and normal (morning sluggishness associated with arthritis) up until that point. The vet said his spleen had probably formed a fast-growing tumor and ruptured. We chose to have the vet bring him peace through euthanasia.
My husband lovingly laid him to rest in our back yard, where he had joyfully chased squirrels and played with his buddy Beth (our other dog).
DH is trying to be stoic about this, but his pain is deep.
Beth and Oreo seem lost and confused today - I have to admit to feeling lost and confused as well.
Petey has been with DH since he adopted him as a young dog in late '95, and has been in my mind and heart the best dog in the world ever since I met him (and my husband - Petey actually played a role in our meeting) in 1998.
Petey helped raise DH's cat Oreo to be a unique and loving cat, more readily accepting of other animals than most cats.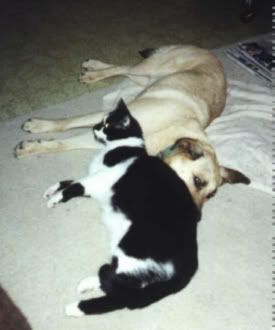 Petey has done many remarkable things over the time I've known him, as well as doing the best job that any beloved pet can do, in being a source of joy and comfort every day, always a loyal friend.
Petey was intelligent, loving, stubborn, and sweet all rolled into one. When I went on a training kick and started working with him, it only took a few weeks to get him well-trained enough to pass his Canine Good Citizen test on his first try, at the age of 9 years old.
He was friendly and sweet to almost everyone, always ready for fun, yet I would trust him with my life, as he was an amazing judge of character. On the rare occasions that he was not friendly to an individual, he's always turned out to be right.
Petey, you will be dearly missed. We hope you will play joyfully over the Bridge with the other dogs and cats, to reunite with us when our time comes.