I would like you all of you to meet my adoreable sweet Amy. She has Cerebellar Hypoplasia and is going on 4 years old. I have had her since she was 2 months. I got her out of a crowded cage at a pet store one Saturday and fell in love so I brought her home and realized something was wrong with her. I thought she was injured so she was at the vets first thing Monday morning.
I had never heard of CH and didn't know there was such a thing. Through Amy, I have learned a lot about this condition but feel I still have a lot to learn. Does anyone else here have a kitty like her, are they better or worse than she is, what have you learned that I need to know, what have I learned that you need to know? I am finding that as Amy ages, her condition does get worse, I know there is no cure, no medicine that will help her and that they can live long happy lives. She is such a sweet thing that everyone falls in love with her and her determination to accomplish the goals she sets for herself astounds me. I adore her and want to keep her happy and do the best I can with her and for her.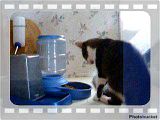 Cerebellar Hypoplasia
The cerebellum is the portion of the brain responsible for the control of motion. When a puppy or kitten is born with an underdeveloped cerebellum, the condition is known as congenital cerebellar hypoplasia. There are infectious causes of this condition in both cats (panleukopenia infection prior to birth) and dogs (herpes virus infection prior to birth). Improper development of the cerebellum may occur due to injury, poisoning or just from an accident in development in the uterus. It is generally possible to see signs of this condition almost as soon as the puppy or kitten is born. Affected animals have tremors and unusual jerky movements or may fall down when they try to move. The symptoms do not get worse as they age. As the kitten or puppy grows it will learn to compensate for its condition but there are usually lifelong signs of a decreased ability to coordinate movement. Almost all dogs and cats with congenital cerebellar hypoplasia can live happily as pets with a little special care to compensate for their disabilities. This condition can be confused with cerebellar abiotrophy, a different disorder in dogs in which the puppy has a normal cerebellum at birth but it gradually dies. Signs of disease identical to cerebellar hypoplasia occur but the timing is different. Puppies with this condition seem normal at birth but usually start to show signs of problems after they are 2 months or more of age.