So, about how I totally called this...
IAN PROPOSED THIS EVENING!
It was our anniversary, and we went out to dinner at the same place we went on our first date. Which was absolutely lovely.
For the rest of the story, you have to know a little background, which is that ever since we've known each other, pretty much, there's been an understanding between Ian and I that we are soul mates and we will spend the rest of our lives together. He owned up about this the first time exactly 2 years ago on the beach...on the lakefront path between Fullerton and the North Ave. Beach, for you people that are familiar with Chicago.
So tonight on our way home in the cab, Ian had the cabbie drive past my street and to the Fullerton/Stockton intersection. THen we walked onto "our spot" on the beach where he propsed and put this winner of a ring on my little finger: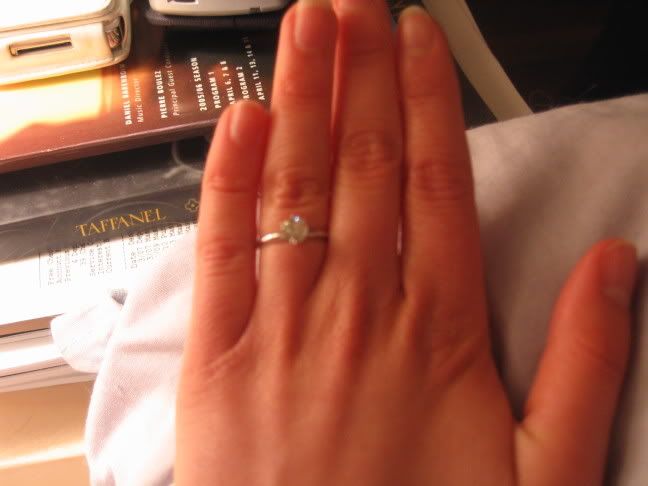 It's not the best picture, but it's the best we could do!
Anyway, we'll set a date for sometime in late 2007, after we've graduated and are settled, etc. I'm so excited to be official! I love him with all of my heart and this makes me so happy!