Prepare to say...AWWWWWWWWWWWWWWWWWW
On Monday evening the director of my rescue dropped off a mom and 3 approx. 3week old kitties. None are named as of yet and I'm open to suggestions!!! There are a tabby and white (boy I think...have to check up on sexing kittens), a tabby (girl...i think) who is the runt of the litter and a black and white girl (i think
) who is very vocal and the bravest of the bunch. Mom (aka Mama-san) also has no name, and is a tiny little wisp of a tabby and a wonderful mother. Mom was turned in my a family living on a farm who didn't want her (or her kittens) anymore. She's not socialized and very skittish.
Without further ado...on to the pictures!!!
The whole family...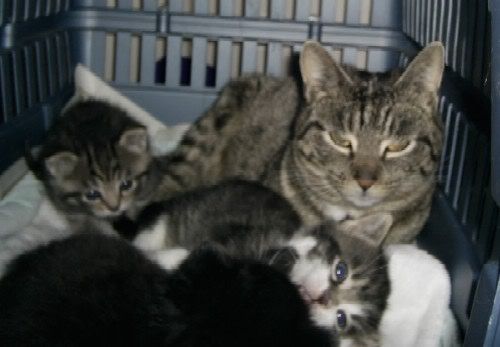 Shy little tabby..and the smallest of the litter...
Tabby and white...little fighter and loves to eat!
and little black and white (with little white socks on the front and white boots on the back legs!...and of course the little skunk stripe!)
And there they are....and suggestions on names?!