We adopted our seahorses, Seabiscuit and Smarty Jones, as a mating pair. Seabiscuit (the female) was naturally smaller and always seemed more frail than S.J. Well, we came home today to find Seabiscuit dead
.

Somehow, our tank's heater knob got turned way up (it could've been Cosette's fault as she has learned to jump on top of our aquarium, the little devil) and the temp in the tank was 81 degrees- water that warm means not enough oxygen for our fishies.

So we've lost our first seahorse and it just kills me. It's amazing how attached you get to them so quickly.
RIP Seabiscuit. Play in the perfect water under the Bridge.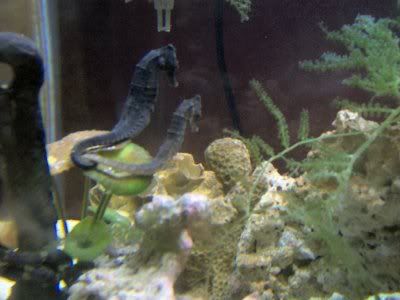 (That's Seabiscuit on the right)