Well Casa De Gato has it's first clients.......
Meet Myson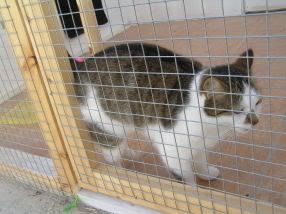 and Tessa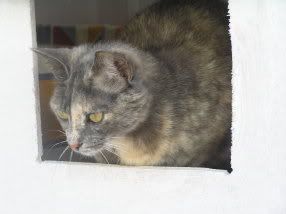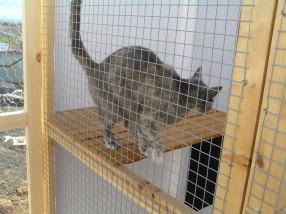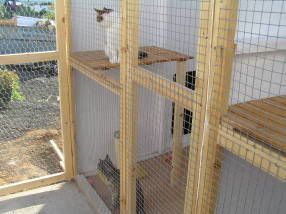 They will be with me untill the 26 th April when there owner will fly over from the Uk to fetch them. They are here untill the 6 months quarantine period is up.
Here are some pictures of the pens and beds. I only have the 3 pens finished at the moment my builder keeps letting me down and the big wall seperating the pens from the front drive is not built yet.
The wood has been painted with a rubberised paint so that it can be washed down (Thank you all for your advice on wood absorbing urine hopefully this will solve that problem). Excuse the wall behind the pens the cats arrived befor the wall had been painted and once the big pen (above) was completed they were moved so the wall in the small pen could be finished.
Although the wood looks pale it is in fact treated wood so it will not rot it just looks like bare wood.
The floors are all tiled and I do have ladders for cats who are unable to jump into the bed area.
I have had little porches put over the doors to the bedrooms and the roof extends over by about 1/2 a meter to avoid what small amount of rain we get here blowing in.
As soon as the area is tidy (it's still a bit like a building site) I will photograph the whole thing so you can see the finished set up.
I am finding it very easy to keep clean and work in. The black squares on the wall are mats which I bought from IKEA and my builder has attached them to the wall. The cats love them for scratching, and everything here dries so quick I can wash and disinfect as each pen is vacated.
As I was typing this I have taken a phone call from a lady who is returning to Ireland, her cat Jess has to stay here 6 months after his blood tests befor he can fly back to Ireland seems the quarantine rules have changed yet again, even if your pet was bood tested and has been here 6 months you still have to have the tests done again and wait another 6 months (wish they would make their minds up) ..... which will mean more abandoned pets left behind by returning expats..... but possible more business for me.