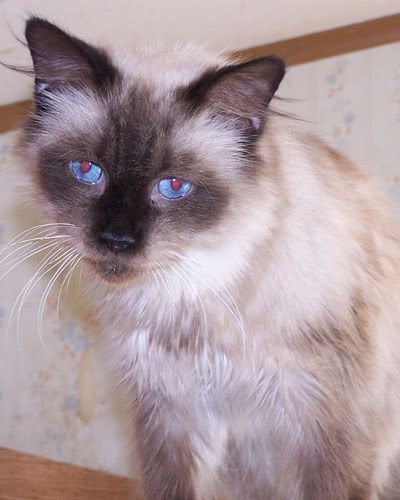 Big Daddy Bennett
1996? 1997? - March 24,2006
Big Daddy has been quite ill and under a doctor's care since January. He left this morning at approx. 9:05 a.m. for the Rainbow Bridge. I was holding him in my arms when he breathed his last breath.
My vet strongly suspects it was FIP. As there is no real test for the disease there is no way to be sure.
As many of you know, Big Daddy has had a few hard times in his life. In October 2004 someone shot him and broke his right front leg. Thank you to all who helped IMOM to collect the funds needed to give him a better life. He has had a good and uneventful year and a half since then.
My only big regret after the shooting is that BigDaddy had to stay inside from then on. He loved to go outside but it was just too dangerous for him.
Thank you all here at the CatSite who donated to Big Daddy's fund at IMOM. He had a better painfree life thanks to all the angels here who cared about him.
Big Daddy joins his 2 sons, MacKinzy and CookieDoe, and his 2 daughters, Mina and ShilohRose at the Rainbow Bridge. He leaves behind me and his 2 wives, Mrs. Black(mother of MacKinzy)and EmilyRose(mother of CookieDoe and Mina and ShilohRose as well as the still living Starr). He is sadly missed by us all.
Love and Life,
Nan