The story started here.
http://www.thecatsite.com/forums/showthread.php?t=70532
The kits were initially unnamed, then became Red and Blue. Blue tamed up and was adopted, but little Jasmine (previously Red) remains an elusive member of the family.
Since part of her sister's taming was from eating food off my plate, I have been trying to use the same enticement with Jazz (Jasmine). Jasmine has begun to climb on the computer desk if I am eating, and will take scraps out of my hand. Or occasionally off my plate. She also watches Garfield A LOT, as he climbs on me and headbutts me.
Today, as I was eating dinner, Jazz jumped up on my lap! Not the desk...MY LAP! And ate part of MY dinner...because how do you say no, when you have been trying to get her to tame? LOL! Rather than eating out of my hand, or off the edge of my plate where I push a little treat for her...she will grab the good stuff from my part of the meal. And like a pushover...I let her. If she ever gets too pesky (like her sister did), I will teach her limits later. For now, it is just a blessing to have her come near!
I didn't get a pic of her fully on my lap. But she did come back with her front paws on my lap as she ate my food!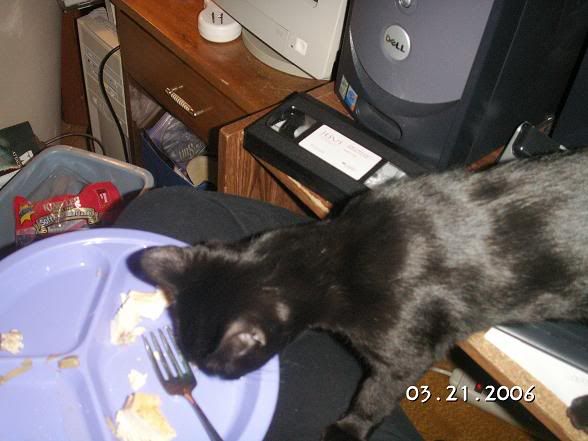 Then pigboy (aka Garfield) joined in. But I don't chase him off because I don't want to scare Jazz!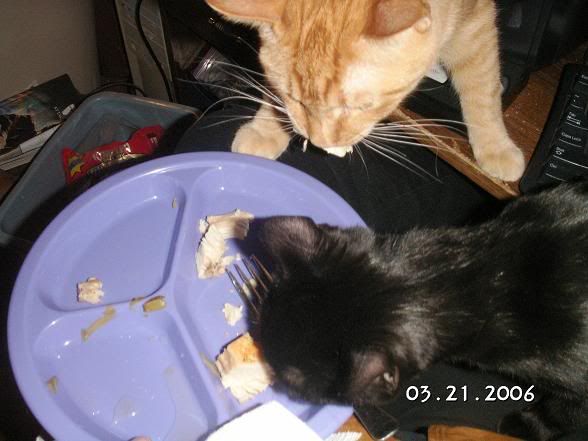 This is such a big leap forward for my little girl!
Yay, Jasmine, braving the big bad Mommy's lap!!!!