I am so excited!! I have a little guy and he's orange!
We have always wanted an orange cat, but it never worked out that way. We just got Nate last night and so far, he's doing great. He and Ed (or dog) are getting along 'swimmingly'.
As far as the cats go, I haven't introduced him and Wowzers yet (yikes), but he and Gracie are doing pretty well. Gracie is such a sweetheart she loves everyone, but Nate is a little too anxious to sniff her. There hasn't been any hissing, but I can just hear Gracie saying ... "slow down buddy"
He's SO easy to get a pic! My other cats it takes days and 20 shots to get a decent one and this morning I only took about 8 and they all turned out great! - and I didn't have to chase him all around the house.
anyway.... here he is
I love this shot!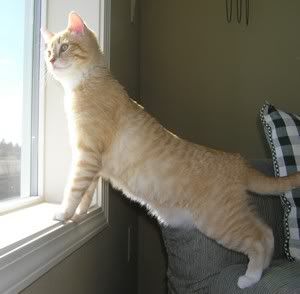 isn't he a doll?