Hi all,
Just wanna show u all some more picture of my Precious Pets that always make my life more merrier.
Valentine shocked when my hubby scared him with his face cover with ghost mask.
Kyoko tried to escaped from my camera.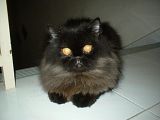 Defi like usual like to act in front of the camera with his macho face
What r u lookin' at?!!
4 almost 3 hours, I tried 2 find her, then I found her in the paper bag...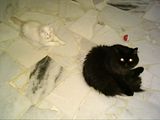 Valentine want 2 play with Defi but he's so afraid 2 approach Defi....