Well, I made it! Three days on the road, through bits of France, Belgium, Holland, Germany (a lot of it!), Austria, Slovenia and Croatia before hitting Bosnia. All fairly uneventful, except for not knowing that Belgian motorways are not like French ones with fuel at reasonable distances, and I had to leave the motorway and then got lost in a Flemish speaking area in the dark with my petrol light flashing before I found a station. After that I filled up when the tank was half empty. The weather threw everything it could at me, rain, sleet, snow, fog and blinding sun, but the jeep behaved beautifully. Then the real drama happened when I got home. My flatmates had let the cats out today and Persil and Napoleon were still out when I arrived. They both ran up to the steps when they heard me but would not come in. So I half unloaded, decided to have a cup of tea before finishing, and hoped that they would come in the cat door when they realised I was inside. That in fact happened, so I made sure they were locked in and went to get the rest of my stuff. This is what met me -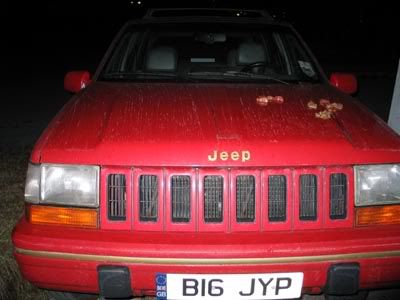 One or both (it was a lot for one) of the cats had left a present right on the bonnet of the jeep! Has anyone ever heard of such a thing? Peeing in beds, messing the bathroom floor, but on my NEW CAR? And did they know it was mine, or did the warm metal attract them? Why would they do that? When I got upstairs the Chief Suspect (Napoleon) had decided he was really satisfied with life:
Butter would not melt in his mouth. And I brought them back so many presents and lots of good food!