Sorry for taking so long to make this thread i have been busy/lazy to do so!
At 5 am we all hopped in the car for the 2 hr drive to the airport, we arrived at 7 am, chucked away our luggage and sat around drinking coffee and looking at stores in the airport, the Koln /Bonn airport is soo small i was bored very quickly!
We hopped on the plane and i slept for most of the way, it was only a 2 hour ride but i was so tired as i didnt sleep through out the night..
When we left germany it was -7 Celcius degrees it was all gray and snowy.
We arrive in Palermo at 14:00, i walked out of the airport and i was boiling! i needed to take my big coat off. It was 16 celcius degrees the sun was shining , the water looked so beautiful i wanted to take a swim!
We arrived on a thursday and the first thing my father did was take us to the deaf club so he could chat around with his friends.. we then went out to dinner and went to bed by 21:00 because i was falling asleep on the table!
My mother and i stuffed our selves with yummy foods that we dont get in germany and we were so bloated when we went home.
Friday: First thing we did, is go to the cafe` Its called "bar" over there but they just make food and coffee for you, i took a delicious latte macchiato.. Here in germany doesnt taste that good! and two arancinas (its rice balls with mozarella and prosciutto filling inside) Ohh i am now so hungry by just thinking about it!
We then did our business things, saw my aunty and my cousin who has lukemia (he is out of danger but still needs to recover alot more).
We had lunch at a restaurant, went out and met my dads friends again (by now can you tell i was really bored?) and then we went out to a restaurant again for dinner.
Saturday i scoff more food in the morning, went and did some more business things, had lunch in another restaurant, in the evening there was a big gathering of 100 deaf people, they went ice skating and I just watched, we then went to a restaurant and i made friends with a little 9 year old! poor thing i actually think he fancied me
I have a picture of him but i dont think i am able to post it here...
Sunday: we woke up late because of our late night out, we went to my aunties to have lunch.. hmm yummy yumm with lots of cakes, then we drove to palermo and saw my other aunty and cousin, we went and got pizza as take away and this is when i got to come online.
Monday: we did some more office things, this took the whole day, i was getting peed because i wanted to get a pair of jeans i saw at the window on the saturday.. we got to the shop and it was closed! Like the other days we ate ate ate and went to a restaurant and totally pigged our selves out as it was the last day... We were also celebrating for my dads birthday because on the "wednesday" we were picking up the kitties!
Tuesday morning we go out clothes shopping, say bye to my aunty and we were off to the airport.. we were lucky we didnt miss the plane! before we got on the plane we bought a big box of food, and unfortunately it was all gone in the first 30 mins of our flight!
My legs swelled up really badly though and my feet are still kind of swelled.
My left fingers are still swelled a little.
I actually put on 6 kilograms in the 5 days i have been gone, and have only managed to get 5 off in the last two weeks!
Now i am soo hungry
i could just go there to have dinner every day!
Here are some pictures, my phone kept on dying so i wasnt able to get many pics SORRY!!
I will next time and i hope to have a digital camera by then!
Oh yes the morning we were leaving to Germany, there was SNOW!!!! and it was soo windy!
First day - this is the road that leads to our beach house.
This is the dog that lives on our property! He is so cute and adorable and doesnt bite people, i told them i was going to take him back to germany with me!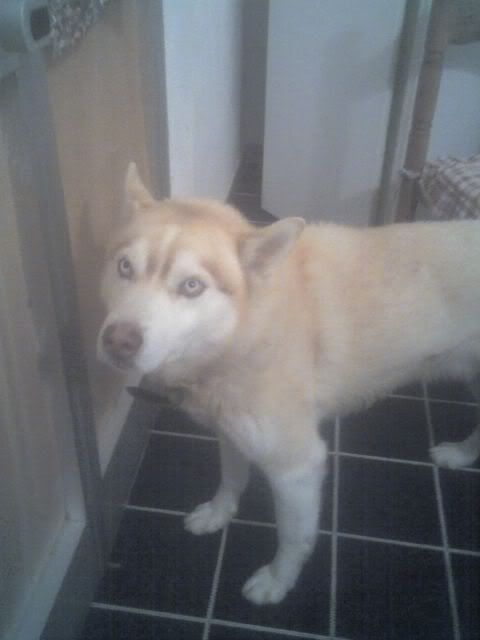 The day we were leaving, the water looked so beautiful, too bad the camera isnt good quality!
and this is my mother! finished to pig out on her pizza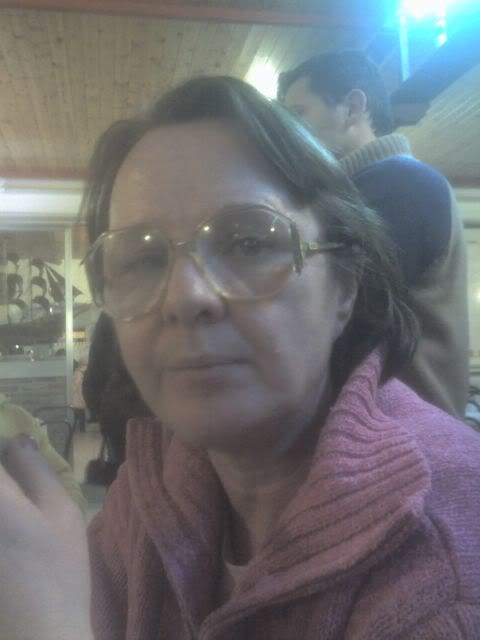 Can you tell i did a very poor job at dying her hair?