Post those pics of your kitties hanging with your dogs!
In the beginning, when Molly was still new and Jake was still in love
Jake following Molly while she plays
Unfortunately for Molly, Jake's so in love that he has to be next to her at all times
So Molly goes into the Christmas tree to escape Jake, and Jake can't do anything except gaze into her beloved eyes from afar.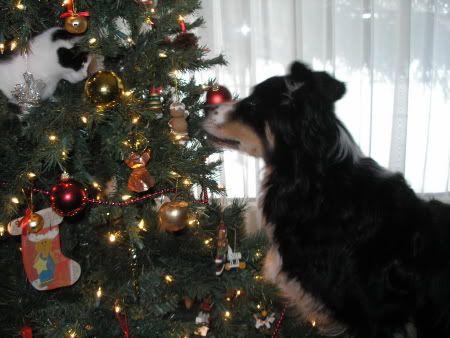 Molly criticizing me for the mess at the computer. Jake, of course, continues to be in love.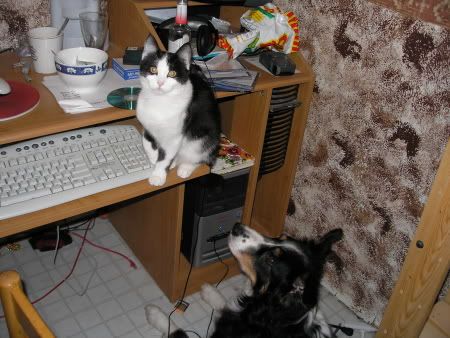 When Molly explored the bathtub for the first time, Jake was right behind her, continuing to love her. He didn't love her enough to jump in after her, though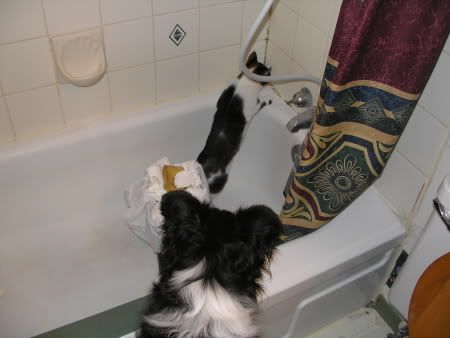 Molly's starting to get a little fed up with having that dog follow her around all the time, lol
Gazing out the window together (it's an illusion, this was just one lucky shot when someone passing by caught Jake's attention. The rest of the time, he was too busy being in love with Molly, lol)
"Guess what, mom! Molly says she'll be my valentine!" (now Jake can rest, lol)
I have a couple of pics of Jake with Willow and Buffy, but I have enough pics already, and Jake's world is all about Molly now anyways, lol