Hi all, just got some new pics so I wanted to update you on Billy and Leo's story.
As you may remember:
My friend rescued Billy, a 9 year old (10 next week) gray and white cat when his owner passed away (followed a week later by billy's brother). Billy is the biggest , sweetest lovebug in the world and had my friend all to himself for almost a year. My friend decided she wanted a friend for Billy and I put her in touch with a rescue organization that I knew had quite a few older cats looking for homes. And along came Leo. Leo is around 5 years old, and was found as a neutered and front declawed stray living on the streets. He was so bony and scruffy looking, but purred the second you looked at him and loved his scritches. Well after 3 weeks there is peace between billy and leo and my friend is ecstatic. She sent these wonderful pictures!

opposite ends of the couch...my friend sits between them!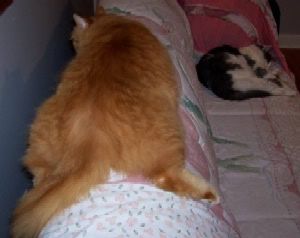 what a cute kitty bum!!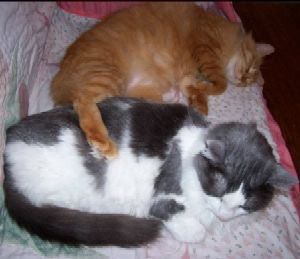 proof positive that the are getting along!!! so exciting!