Picked her up tonite (finally!) and she is even sweeter than I thought she was. She was only here for an hour and already purring like mad, snuggling, rubbing, I even got a kiss!!
Here's some (very) prelim pics. She was so lovey-dovey I couldn't get her to sit still. She also needs to be cleaned and brushed
She's a little ragged.
Already feelin comfy: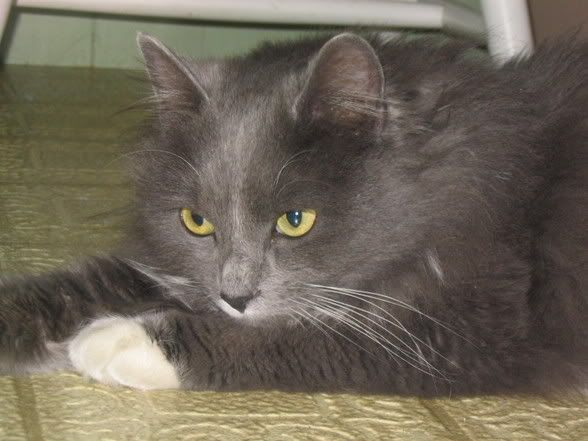 I figured she was "chunky" like two of my babies I have now, but that's all fur. She's a lightweight...hehe.
Pet Me! Pet Me! Pet Me!
She's 18 months and the shelter said she came from a family of 4 other cats and 3 kids (so she should feel right at home here).
Her name is still under some discussion here. Right now we've got 9 we like
.
Abbi
Lily
Emma
Muffin
Skittles
Callie
Molly
Princess
Claryssa
(SORRY ahead of time if any of these names are the same as any of yours. We looked at about 6 other websites for names - we didn't search here, but there are sooooo many members here, I'm sure I've repeated on someone.)