Moss With His New Toys
Lynsey Lou

offline
977 Posts. Joined 5/2005
Location: England
Moderator/Admin

offline
54,343 Posts. Joined 12/2003
Location: ENGLAND... LAND OF HOPE AND GLORY!
Awwww
is he there for ages watching them?!
Lynsey Lou

offline
977 Posts. Joined 5/2005
Location: England
Yeah, they keep him entertained for hours!!
Never left unattended though
When I put one of them in their ball, Moss runs away!!!
Thank you - My Wonderful Friends

offline
9,779 Posts. Joined 12/2004
Location: The future 'Green' House! (NW England)
That picture is just too cute!
I't so funny how Moss runs away from the ball!
offline
8,992 Posts. Joined 12/2004
Location: Statesboro, GA
offline
13 Posts. Joined 2/2006
Location: CT
Quote:
Originally Posted by Shem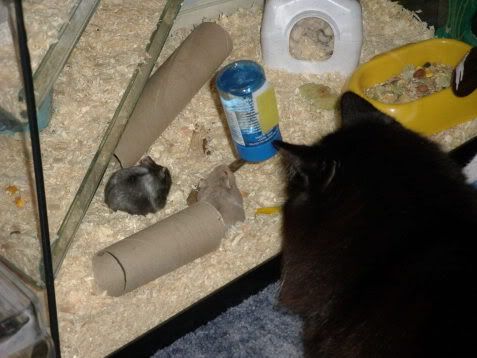 that's now his cable tv...
Slave to the purr.

offline
4,573 Posts. Joined 9/2003
Location: Under the cats, mostly.
All he needs is a remote