I thought I would share this behavour with you as it has amazed me and the vet at the Cat Rescue place I foster for.
The first litter of kittens I fostered were 2 weeks old when I got them, I found keeping them clean very difficult and untill they started to clean themselves they were pretty disgusting. One of the litter Tommy a little ginger kitten I decided to keep (mostly because Charlie had fallen in love with him).
The story starts when I got the second litter of kittens they were very small and weak, only 8 days old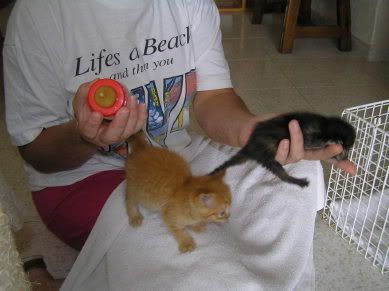 I struggled to get them to feed and lost one of the 3 after a week. Tommy at this point was still only a small kitten himself (6 weeks), but he diecided that I was rubbish at this fostering thing and he was going to take over, he had always shown an interest in the babies but from the day the littlest one died he moved into the cage and offered comfort to the babies. He cleaned them, toileted them and tried to carry them back if the climbed out of the cage.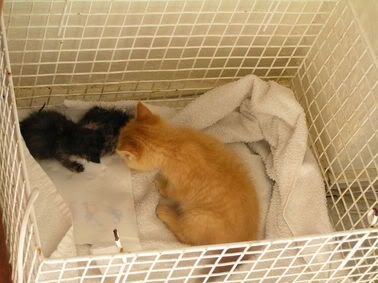 He was so obsessed if they cried he would go flying to the cage and ask to be let in. From that day on the kittens started to feed better and thrived. I have now rehomed both of them but I am convinced if Tommy had not stepped in I would have lost them both.
Here they are just before they went to their new home (still small but eating solid food and new owner experienced cat person)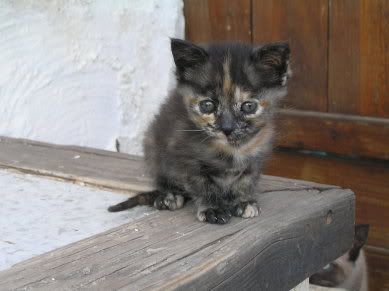 I love this one, the tabby kitten went first to new home and the other one stayed for another night, I think she missed her sister and this is where I found her next day. Luckily the lady who took theTabby decided she wanted the two after all and came and fetched the other one as well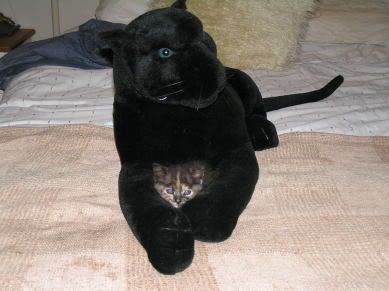 I mentioned Tommy's behaviour to the Vat and she was astonished, we even checked to make sure he was a male (even though he was ginger) I wonder if he will do the same when the next litter of babies arrive.