HAPPY 1st BIRTHDAY COSETTE!!!
Her real birthday (we think) is on Jan. 25th, but unfortunately I'll be in Texas for a 2-week training then
. Sooo... tonight we celebrate sweet Cosy's first birthday! She'll get a few more tins of Kitty Kaviar, a new Beastie Band, and some more of her favorite little squiggly toys.
Cosy then...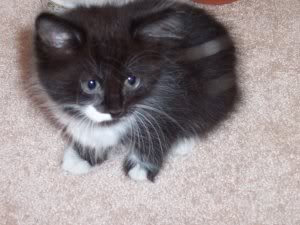 And Cosy now, sassy as ever...

You've come
a long way baby!