It is with a very heavy and sad heart that I must announce that Sonny will be put to sleep today after a 6 month battle with Amenia. Sonny was 3 yrs. old.
When we decided we wanted a Ragdoll, our hearts were set on a female kitten and that was our intention all along. When we were at the breeders, we picked out our kitten and then we saw 10 mo. old Sonny. I knew right then I wanted him. He was very majestic and his posture was perfect. He was a little shy at first but then after a little while he totally opened up to us.
He grew up to be a very beautiful boy. It is amazing how many people Sonny's short life touched. Everyone that met him loved him. They would say things like "I have never seen a cat like that before " and "He is the most beautiful cat I have ever seen." He would go up to everyone. He was not afraid of anything.
Even through his illness it seemed that he was a fighter. He would still find energy to jump up on my lap when using the computer. (One of his favorite times to sit on my lap). We used to kid about that alot because it didn't take long for him to figure out I was on the computer. When he would jump up he would meow so softly. I told my wife that he wanted to goto Sonny.com. I will never forget the middle of the night awakenings as Sonny would headbutt to get some attention until you woke up and petted him. Then he would just settle in beside up in bed.
I feel comfortable knowing that we did all we can to save him but unfortunately it wasn't in the big plan for him. Some people think that spending the money that we did to try to save him was crazy but I couldn't live with myself if I didn't. To me, he is worth a million dollars.
I've posted a picture here although not the greatest quality so everyone could say goodbye to him. I hope the moderator forgives me.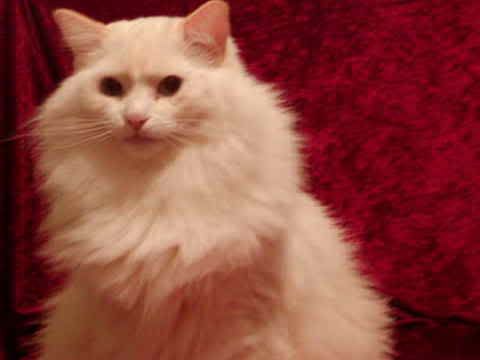 Our 3 other Ragdolls are doing fine although I know Ramona is going to miss him deeply. Thanks again for your continued support and all the great information I have received by belonging to such a wonderful group. Sonny will be laid to rest on our property right next to Pudders (Our Maine Coon).
Thanks and Regards,
Mark