Quote:
Originally Posted by lilleah878
I REALLY want a monkey. I've wanted a monkey all throughout my life. LOL! I didnt know there was an option to actually have one.

I hear they go crazy sometimes though, So I'd have to have some serious training. And I dont much think my kitties would appreciate a monkey. lol
you never know... this one quite liked kittens and puppies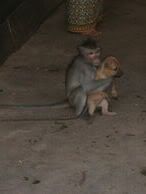 I met her and her owners in Cambodia.