My little princess thought it was about time she had some new pics up here, and who am I to argue? So, here's a few of Waffle! Hope you guys enjoy!
Sleeping like a little angel...
"I didn't mean I wanted my photoshoot to be first thing when I wake up!!!!"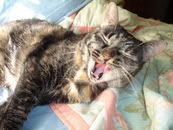 Giving some attitude...
"At least let me clean up before you take anymore..."
And lastly, Waffle eagerly waiting to open the first gift on Christmas morning...(Don't you just love her pink polka dotted collar?!)