Hi Everyone,
I wanted to introduce myself and my three cats. We moved out to the country about a year ago, and have since acquired three cats. The first one is Wowzer. She is a feral cat from the neighbors. She came to us pregnant not long after we moved here. She tamed up quite nicely and had four kittens. We found homes for the kittens and had her fixed this fall. It has been a challenge with her, she has such a dominate personality.
The second one is 'Boogs' (short for booger)! I work on a farm and one of our employees came in and said he found a kitten out in the field and asked me if I was interested in saving it. Of course I couldn't say no. He told me it was quite small and had been sitting in the same place for a couple of hours meowing. I called my daughter, she brought the carrier. This kitten was about 5 weeks old, skin and bones, so weak, she could hardly move, absolutely COVERED with fleas! I have never seen so many fleas in my life, and her little body was totally ridden with bites. Long story short, we got her all fixed up, and she is the love of our life. She's a black and white tuxedo with 6 toes. She was such a tiny thing, we kept calling her a little booger, that's how she aquired her name. It took a long time to tame her, once she got to feeling better and got her strength back, she decided she was a wild cat again. It took a good month or more before she really felt comfortable with anyone but me.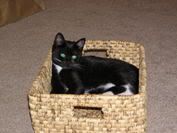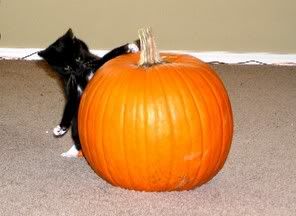 About a month or two after we got Boogs all up and running, someone dumped a kitten off at our house, she was quite wild at the time and about 3 months old. The first few days she would run if she even saw us, then she started slowly getting a bit more brave. When I would put the food out, I would stay in teh garage and she started slowly getting closer, then one day I could tell that she wanted me to pet her but she was afraid. I tried so hard to get her to come, and then she came over, rubbed her head on my knee then ran! About 2 minutes later, she was my friend for life and she hasn't left my side or anyone elses since then. She is by far the sweetest and most loving cat I've ever owned. She came to us with the most severe case of ear mites I have ever seen and is recently being treated for an upper respiratory infection. She and Boogs bonded immediately and love each other. It's so fun to watch them play, groom each other and sleep together. She is so sweet, we named her Gracie. She is black and white with long hair and 1/2 a moustache. She is goofy, and loves to watch the birds from the kitchen window.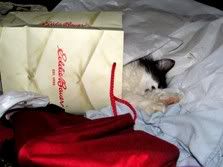 I'm really excited to be here. These are the first experiences I have had with strays and feral cats. I've had lots of cats before, but not these circumstances. It will be nice getting to know the rest of you guys.
Thanks :-)