This little sachet is in my sewing room upstairs.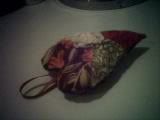 For months now, Saba has been playing a very interesting game - and I've been stumped as to what she's been trying to tell me. The sachet sits beside SiSi's photo RIP
I will wake up in the middle of the night with Saba dragging it up to our bed, chirping. In the morning, I put it back, and then the next night she's dragged it back again. It's 5" long, and Saba is tiny, so she has to work pretty hard to put it on her mouth and carry it off. Sometimes it gets left in the hallway, and sometimes I will put it back and then we'll go back and forth with it two or three times a day! I wonder what she is telling me, besides thinking it's a little game.
She doesn't do it with any other item, and she won't do it when I can see her, either. It's like she's determined to be stubborn!
Does anybody else's kitties do such???