Hello, I'm new here so I figured I had better introduce myself. I'm Jamie and I have two beautiful kittens.
Lucivar is a male 8 month old and is very mischevious.
Nicknames: Luce, Luci, warlord prince, fuzz butt, monkey pants, gorgeous and monster.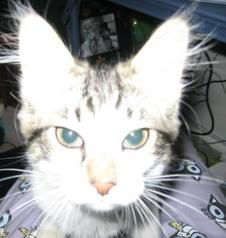 Emmagan is a female 6 month old and is mildly crazed.
Nicknames: Mog, Moggie, The Mog, moogle, moggle, stinky, crazy child, and beautiful.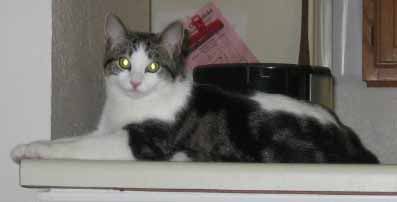 I'm very shy so I'll probably only post when I'm feeling particularly brave. I adore my cats, they are my children and are perfectly spoiled brats.
I'm also hoping to post some of my cat stories over in paws and reflect, so keep an eye out for me. I'm not the best writer, but I think they are pretty decent
Holding down the Fort-Lucivars Diaries
Ruling the Roost-Emmagans Diaries
Yes, I'm twisted :P
~Jamie