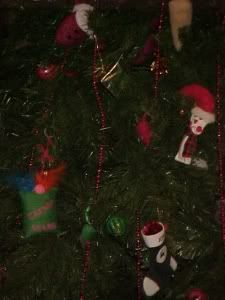 We put a lot of thought into this. No lights, bead strings instead of tinsel, ornaments the girls have kitty tested over the years... Most of the rest is cat toys. My daughter and I went yesterday and got 2 kitty stockings full of things to decorate the tree with.
Muffin being born in June was a bit older her 1st Christmas. Guzzler is right at the height of the kitty verson of the terrible 2's. The tree won't make "Better Homes and Gardens" but, do we get an e for effort?
Happy Holidays all!!!