A big hello from us down in sunny South Australia, its great to be here!
My name's Jen, I'm 19, and this is my owner: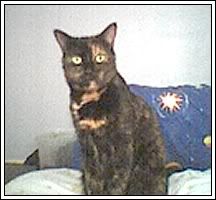 Puzzle is a three year old Tortie. We rescued her from a house across the street in 2003 and she's ruled the roost ever since. We've always been a cat family, from Gran's Flower and Tom, to my stepdad's Kashmir. The scary thing is, Puzzle looks like a younger reincarnation of Flower, and what makes it more freaky is that if it wasnt for my Gran we never would have found her!
She has us all wrapped around her little paw, but we wouldnt have it any other way! Sometimes she'll just look at you like
, which is how she got her name. She takes ages to make her mind up about anything, and when she wants attention she tells you
. She's slightly neurotic, she's nosy, a clean freak, and her favourite toy is two shoelaces tied together that we drag around the house for her to chase. I leave my door slightly ajar for her at night and if we dont confiscate it when we go to sleep, she'll drag it into my room (or up to the couch if anyone's sleeping there) and sit there, miaowing, until we tell her nighttime is for sleeping and not a lot more!
She'll often jump onto my bed at night and sleep on my chest. I know I shouldnt let her, and she knows she shouldnt bother anymore because I'm just going to kick her off anyway, but I love it all the same. She's really trustworthy; she loves us all enough to roll onto her back exposing her stomach and even lets us rub her tummy when she feels like it. Plus she has the loudest purr I've
ever
heard!
Well. I think thats enough for now, haha. I look forward to chatting to you all on here!
Jen & Puzzle