Hello to all my fellow felines. I just wanted to let you know that dad is not the only one posting threads!
Sometimes, when he leaves to go to the bathroom I jump on the computer and melt your hearts with my typing skills! Mom caught me, but now I have the proof to show you that you can do it too!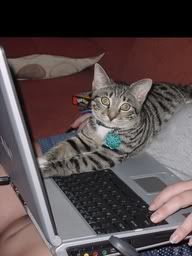 So Come on my fellow felines show me that I am not the only one type'in on the computer. Post your pic's of you type'in on TCS.
Will type to ya soon
ZAZU