Hello. I'm new to the board. I've been lurking a long time though. I'm Erica, and I have two cats.
This is Tara. She's about 5-6 years old. I found her outside in the snow on Thanksgiving of 2003. She's quiet and sweet, and very jealous of the new little kitty. I've nicknamed her The Green Eyed Monster, as I love her large green eyes, and she gets angry if I pet another cat.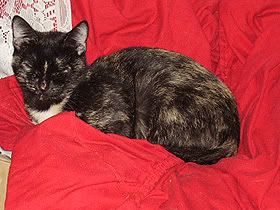 This is Drusilla. She's somewhere between 5-7 months old now. I got her back in July from a shelter as a friend for Tara, who actually hasn't tolerated her yet. That story's for another post though. Drusilla is very playful, and a bit nippy, as she was taken away from her mom at only 6 weeks old. The shelter I got her from turned out to be a lot less reputable than I thought, and despite them saying she was 8 weeks old, vet checked, had shots, and i'd be able to get her spayed there free when she was 6mo, they lied about all of it, and were shut down not too long ago for this. Luckily, she only had fleas and tapeworms, and nothing too serious.
Well, those are my girls. Hope to see you all around the boards.