Does anybody else remember that song...think it came out when I was in grade school.
Anyway, here's the first pics (sorry, not too exciting) of my recently reunited littermates Peter and Claire. More to follow. Seems like they're always together, just not when I have the camera handy!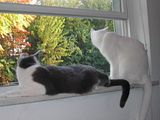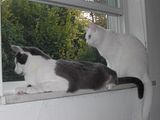 Also, here's one of the lovely Claire, who's now feeling a little more comfortable in her new home.