so..i am very glad i can post this question!!
back in oct of this year..first time ever at Cal state chico...the aids quilt came!! we had 20 quilts requested from families, *one family came from fresno, one from texas (i met the family from texas - they said this panel was the closest thing to a grace for their son, since -for a reason i do not know-their son's lover kept his ashes-the family didnt get it)-on top of ones from sacramento, and chico (this is in california of course)
..and i was there for the 2 days straight helping set up/volunteering/reading names.
my dad died of aids when i was 6 or so...very very devastating considering i had no clue what the heck was going on. (he died on one of my cousins bday also..aug 20 1993)...anyway.. i see that the aids quilt is coming to chico so i made him a quilt to add to the names project (i have yet to send to georgia)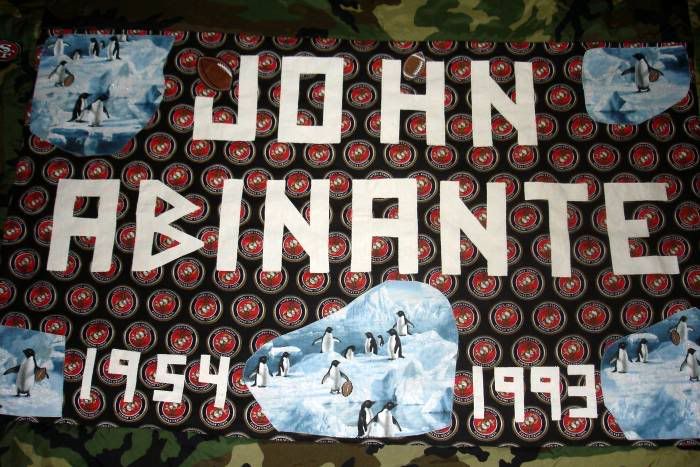 i was the only person in chico at that moment that made a quilt, so i was interviewed by our school paper and chico enterprise record. while there we met a local family who lost their son to aids also. seeing the quilts, and people walking through, crying, hugging eachother, or just browsing around..was just so amazing...to me..with aids..you never really see much about it (at least i dont..??) i see 'support our troops' stickers..and breast cancer/cancer in general stickers..but i have yet to see a red ribbon sticker? dec 1st is world aids day and i know there are some people that do not know that..oct is breast cancer month/domestic awareness (i think also) month..but come this dec 1st im going to look around and see how many WAD advertisements i see..(i wonder why there isnt an AIDS month..only an AIDS DAY)
anyway my main question is i am asking if anyone else has seen the quilts? maybe had an experience close to home like i did. i am very open to talk about things and this is something that i cannot suppress. i took so many pics that day..if anyone would like to see them please pm me and i would be happy to send you some..we had quilts (celebrity panels) from freddie mercury, a zen-abstract artist, a singer from the flirtations, sylvester..i know there were a few others..
sorry this may be long but this is something that i feel so strongly about its hard for me not to elaborate. you look at these quilts and notice how young most of these people were..my dad was only 38 when he died, and to think there are people who live with the disease for a lot longer than he did, does anger me that my dad couldnt have been one of them. and if they find a cure i my life time, i'll be glad..but it will also be 40+ years too late..
anyone who has seen these beautiful panels knows the effect it has...it was almost too hard for me to put up my dads quilt with the other because it was as though i finally admitted to myself he was gone - this is the only way people can see the impact of aids..and if you havent seen it i hope you visit the website and go visit it in your area!!..again..i apologize for the length..