My little baby has had quite the day.
Serenity started doing her I can reach that light fixture routine, where she jumps as high as possible repeatedly trying to reach the light fixture over the dresser. Looking up, I noticed something red smeared on the dresser.

I jumped up and there were little red paw prints on the carpet.Cradling Serenity in my arms to investigate, I first saw blood on her behind, my first thought being vaginal or rectal bleeding (who wants to see Stephanie completely freak out?
) Then, upon closer examination, found that it was her back right paw that was bleeding. She must have somehow caught it on the light fixture or one of the things holding the mirror on the wall. She has a little tear on her paw and a below it proximally. With pressure applied, the bleeding promptly stopped. She was not at all pleased with the cleaning process, but was still as active as ever. She was not acting at all uncomfortable, in fact, I was striving to get her to stop playing to stay off of it!


I'm so thankful we have our wonderful Vet.now! You remember how amazing he was with Sierra for her exam, and he gives this same warm, thorough care to Serenity! He said a cut like this on the paw is rather unusual for a cat. Well, leave it to Serenity!

Serenity was sedated with the same reversible medication Sierra received for her visit, and, like her big sister, Serenity vomited, a normal possible side effect for which her Dr. was sure to forewarn me, and she also received gas during the procedure to ensure she did not experience pain. They were so great to allow me to stay with Serenity during the entire process, making all the difference to both of us. This way, I was able to whisper in her sweet little ear and tell her what a brave girl she was being and that everything was going to be ok. She received 6 stitches to her poor little paw. Every time the needle went in her skin, I felt it jab through my heart.
It's remarkable how much easier it is to see that happen to someone else's baby. While she was sedated, she was also given her rabies vaccine and an analgesic shot which should provide pain relieve for 24 hours.

She was given the medication to reverse the sedative, and adm. Oxygen as she regained consciousness, and wrapped in a warm towel. Her Dr. held her for the first couple of minutes, what wonderful, personal care, after which she rested in my arms. The moment she was out of my arms, all she wanted to do was lick her paw, therefore, Serenity now has a very fashionable purple bandage! Her Dr. sent us home stocked with plenty of bandage and tape for changing her dressing Wed. She will be getting an antibiotic twice a day, and if she is feeling pain tomorrow, her Dr. will provide pain medication.

As soon as we arrived home, Serenity was ready for her dinner! She proceeded to eat her own and some of Sierra's, as well! Sierra knows she's not feeling well and is being especially tolerant of her little sister. Serenity's so cute walking around! She's holding her leg up in the air and shaking it as she walks on her other three paws!
She's still wanting to play and has jumped up on the cabinet and table several times, my attempts to keep her off her paw being rather futile. Now that I'm here on the bed, she is sleeping snuggled up on my chest in her usual spot, and Sierra is at my head. Poor little paw, I wish it had been my foot and not hers. Wish I could take it away, poor baby.
Serenity is so cute the way she's sitting with her little leg stuck out!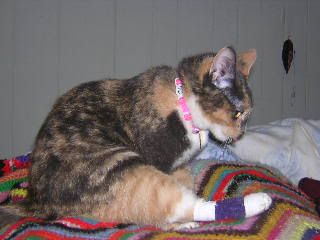 So sleepy after her rough day!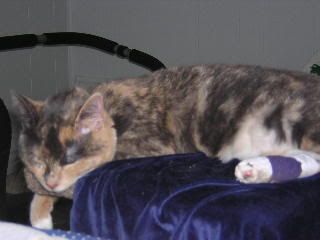 If you'd like, Serenity is showing off more pics of her new fashion statement in Fur Pics


Off to cuddle my precious baby girls.