Well, with the trend of breed threads popping up (not to mention the color and pattern specific threads!), I thought I'd give shed a special spotlight on one group of kitties that I hold near and dear to my heart...the shelter kitties! So, if your baby is a shelter alumna/alumnus, post some pictures and tell their stories here! After all, all kitties are terrific, from the purebreds to the alley cats!
I'll get us started: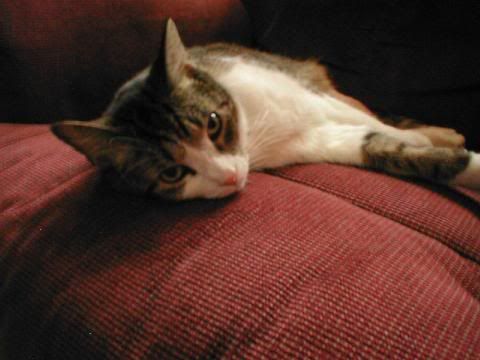 Here's Leo, who was adopted in July, 2004 from the Chicago Anti-Cruelty Society. He was taken in off the streets by a couple, who tried to give him a new home. After a few weeks of Leo (then Gabriel) being a) terrified of the couple's young son and b) sort of mildly neglected, the couple dropped him off at anti-cruelty where he stayed for several weeks before I found him.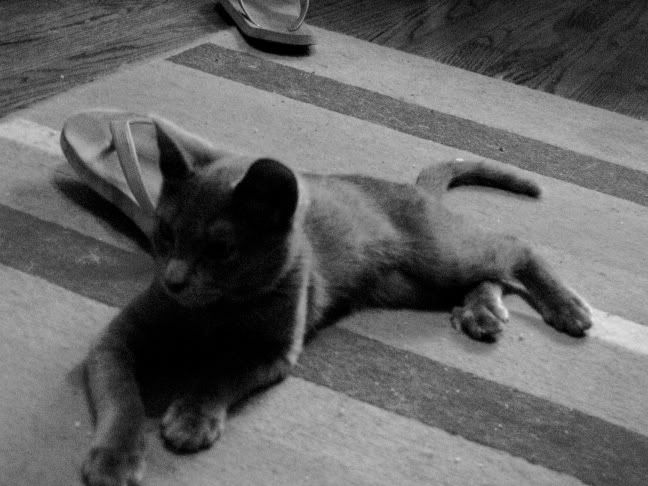 There's the Lola-Pola, who was adopted from Tree House Animal Foundation July, 2005. She was found as an abanoned infant...no mom or littermates could be found. She was hand raised at Tree House under the name Chicky Baby and merged with a 7 week old litter that came in when she was around the same age. This proved to be a bad idea as she tried to love her "littermates" and they sort of beat up on her. So, she lived a somewhat lonely existence with her only friend, Guatemala. Around the time that I was looking to adopt, Guatemala came down with a URI and had to immediately be isolated from Lola, leaving her up for single adoption to a family with at least one existing cat. Enter me!