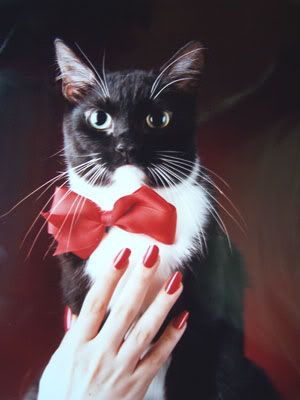 Dylan Michael Bennett
August 22,1990 - October 7,2005
This sweet and beautiful tuxedo kitty belonged to my daughter, Angie.
He passed on to the Rainbow Bridge 8 days ago. We miss him a lot as he was with us thru thick and thin for 15 years. He is buried in my cat cemetary/garden outside my kitchen window.
I am happy to know that he is whole and well again and that he can run and jump like he was when he was a kitten. For the past couple of years he has suffered from arthritis in his hind legs and near the end it became very difficult for him to walk and impossible for him to jump. I gave him his fave food, spagetti the night before he died. He was allergic to milk and milk products so he was not allowed to have it usually. I knew the end was near and figured to go for it. He loved it so much and ate every bite. The very next day around 2pm he passed on. I was at Wendy's trying to eat something and a song came on and I knew. It was Jim Croce's "Time In A Bottle". I knew it was a message from Dylan telling me "Thank You...Goodbye...and I love you". Of course, I was unable to eat and I sat there and cried like a baby. Thank goodness there were not many people there.