As promised, here's some pictures of Alex (adopted from our little rescue group in Aug.) and his new family, whom I had the chance to visit with this weekend.
Alex gets a bath from his little sister, Morgan.
Alex's handsome younger brother, Jasper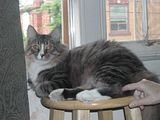 And, the big guy by himself. His mom describes him as a having a Cary Grant personality. He's very suave and laid back.