Wow. I'm getting really tired of this and would like to find a solution.
These are the cats involved...
Luke and Leia 5(?) year old twins.
Luke is the male, Leia is the female (white stripe on her nose.)
Luke is a big suck. A cuddley teddy bear that lives for belly rubs, and playing in cardboard boxes. Very affectionate and playful. Leia is ultra affectionate, yet extremely timid. She keeps to herself most of the time except when she wants her cheeks scratched. Both get along extremely well and often sleep cuddled up with each other. They Occasionaly play fight which lasts about 2 seconds at most before Leia runs away. For the most part they are very non-aggressive.
Flash 12 year old, female. Normally, she is somewhat affectionate and sometimes fiesty (likes to give little nips or swat at your ankle, the occasional hiss when she didn't like something). Likes to be left alone unless she wants pets, likes to curl up next to my girlfriend on the couch for pets. She has lived with two cats in 1994 (Male and Female) for about 4 months, & one cat (Female) in 1997 for about 6 months and there were no problems with the other cats. Since 97 She's been the only cat in the household.
Before our cats were introduced I anticipated that Flash would beat up my cats. 4 months ago my cats Luke and Leia were introduced to my girlfriend's cat Flash.
It immediately did not go well. Before my girlfriend and I got a place together I had to move in to her apartment for a month. When Luke and Leia were first brought into the apartment, Our cats were kept seperate from each other. Flash immediatly detected other cat(s) in "her domain" and became extremely uneasy and agressive to everyone. She was hissing and growling and "hunting" for the other cats. Their first introduction was through a sliding glass door to the balcony where Flash was outside.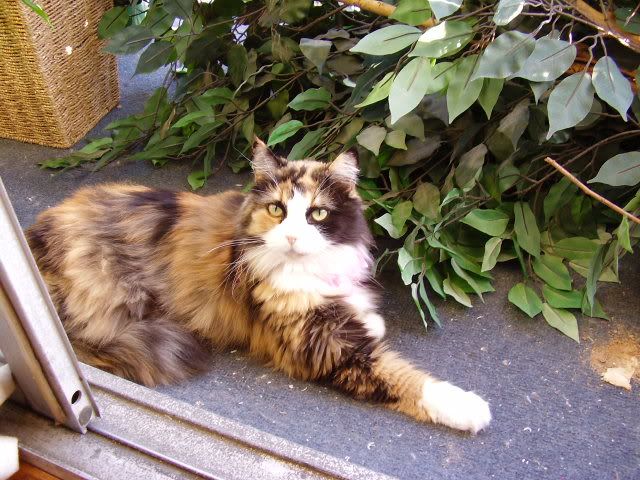 On sight, Flash hissed and growled at Luke and Leia, which put them on the defensive. Almost immediately both Luke and Flash started fighting through the glass. We kept the cats seperated for the remainder of the month by carefully corraling them and letting them have turns roaming the house or sleeping in the closed bedroom. We figured it was so bad because Luke and Leia were "invading" Flash's territory and figured it would be better when they met on "Luke and Leia's territory". We decided to keep Flash in the old apartment until the last minute. and brought Luke and Leia to the new place to have a few days to settle into their new home. When Flash was brought to the new place it was pretty much the same situation. Luke and Flash had their first fight shortly after but what surprised both me and my girlfriend is that Luke turned into the aggressor and cornered and beat up Flash.
Since then things have slowly and gradually got better. The cats have settled into their own areas. with a few intersecting areas. However Flash is still to this day quite hostile towards the other cats. She hisses and growls when she sees either one. She has even taken to swatting, hissing and growling at us after seeing the other cats. Leia steers almost completely clear of Flash but Flash's unease seems to agitate Luke from teddy bear into fighting mode. We bought a spray bottle that we'd spray Luke or Leia with anytime they'd clash Flash. It helped a little but they (mostly Luke) still occasionally goes after her. Thinking the water bottle wasn't enough of a detterant I even tried picking Luke up by his rear hips and dangling him in front of Flash for her to have a free shot at him. But even while he is totally defenceless, Flash seems terrified of the very sight of him that close to her. I end up chasing Flash with a Dangling Luke trying to get her to hit him so he learns a lesson. They STILL clash.
How can we get Luke to ignore Flash and how can we get Flash to stop hissing and growling at the very sight of Luke and Leia? It's been 4 months!
This photo is of Luke and Flash in the new place. This is the closest they have ever been to each other without fighting. Flash had just been sleeping and awoke to find that Luke had entered Flash's living room and made himself at home on her couch. Surprisingly there was no fight, no hissing, no growling! I think she was to groggy at that moment. Luke left the room a moment later.