Hey everyone! My name is Suzanne I'm 17 years old, I'm a kennel tech working at a reputable vet clinic in Oregon!
Honestly, I'm not a cat person. Mostly because all the cats that come into the clinic are scared and nasty, I've been bitten a few times, it wasn't fun. And honestly, cats are just too independant. I like my dog who I can boss around
Anyways, I have a dog named Sofie, she's a lhasa apso/cross who I got for free in the paper just been spayed and had her first shots 7 and a half years ago. I have a horse who I just bought 5 months ago, and I have 15 chickens. I live in the city, I keep my horse in a guys pasture with my sister's horse [[she is 40yrs old. My parents had me late on accident]]. I love animals, and I just graduated early and I'm going to go to Portland Community College to try and get into their vet tech program.
So me, the hater of cats. Got a cat. Basically, summer was the season for kittens. At the time I was still at a barn. There were two cats there already. Ther had been four, one sadly got hit by a car [[in the driveway no less...]] he was the sweetest cat ever, I found him. It was horrible. Anyways, there was an orange kitten there whome I had taken responsibility for. I got him neutered and got his first and second set of shots. Well one of the boarders cats died and she took him. I was pretty unhappy about it. But there was nothing I could do.
I honestly hate telling this part of the story, but since it's the internet I can't be yelled at too royally. Anyways, I told my mom I wanted to get a kitten for the barn. It would be a barn cat... yadda yadda yadda... Well we got a free kitten, I know it's bad. And he tested negative for FIV and FELV. I named him Vader. He was a longhaired black kitty, about 5 weeks old. He was going to be the medical prodigy cat. I brought him to work everyday, I gave him baths, when he got older he'd be my practice kitty for cat grooming [[since we offer it.]] Anyways, he was the perfect cat. My dog didn't really like him, she stayed away from him, but he was so mellow and sweet. Well my parents went camping, and a friend stayed the night one evening. The next morning Vader was apparently under the recliner I was sitting in, and when I got up to answer the phone, you know what happened.
He got caught under the chair.
I died. If you knew me, you'd know I would never cause an animal harm, animals are my life. And so see him... it was horrid. I still cry about it
[tearing up now actually.] On the way to the clinic to euthanize him [[there was no way to save him.] He died, and I bawled and bawled. It's the worste expirience I've ever gone through. So I called my sister who was also camping, and she came and got me because I was just crying over it. It was at the beach. Well the next day someone had free kittens. Well I'm the kind of person who does better if I get another animal, something else to focus on. So we came home with a little female kitten. She was a long haired tabby, very sweet. But she hated my dog, she hissed at her and just freaked out. No biggie. I take her into work, she tests positive for FIV. Now I'm also the kind of person who is going to get attached. At the time my parents said the cat could NOT be indoors all of its life. And if she really was positive, I know other people in my neighborhood don't care, but I can live knowing that my cat maybe gets in a fight with the neighbor's cat and gives it FIV. I can't live knowing my cat is infecting everyone else's cat. So we had her euthanized. Initially i wanted to take her back to the backyard breeder, but dad didn't want to drive all the way back to the beach. Plus, she'd probably just be re-given anyways. And I called several rescues, no one would take a positive cat. The cat adoption team was full up, so it was impossible. After all of this I was pretty torn up. It wasn't fair. She was so young, Vader was so young. It was just impossible. Until I got contacted by a rescue. They said they had some kittens up for adoption. They had their first shots, and if one of them had FIV or FELV I could bring it back no problem. So I went out and looked at their cats. They had two black kittens, including Napolean [[my kitty's]] brother. But I didn't want another Vader. And The black cats were mellow. Clearly mellow cats don't live long in my house
So Napolean really struck my eye. He was very busy, and very outgoing.
I adopted Napolean and haven't looked back. He's insane. At night it's routine for him to crawl in my bed and make biscuits in my hair. I named him Napolean after the dictator/explorer because he's so busy. He's not nasty in the slightest. You can bathe him, trim his nails, do pretty much any kind of "kitty torture" and he's good about it. He'll just yowl and complain. He's very comfortable at the clinic. He sleeps all day. He loved playing with toys, he would probably be a great hunter. He's an indoor only cat. However I'd like to get some special fencing or a large open enclosure for him to be outside. He really wants to be outside. But I don't want him disappearing on me, getting an abcess, or getting hit by a car. I taught him how to sit on command. He's very food motivated. He uses his litter box faithfully. And the best part of all, he and my dog love each other. They play all the time [[mind you this is my 8 year old dog who doesn't even play with other dogs]] they run around after eachother, he tackles my dog all the time, they have a blast and I think it keeps Sofie young. When I bring them both to work they can be kenneled together, it helps Sofie relax when he's with her. Over all he's just a nice cat. He doesn't like other cats, but he loves dogs, he loves playing with them. He's had exposure to cats and dogs at work. And he'll his at the cats but rough house with the dogs. He's quite the character.
If you read this novel full of typos you get a cookie!!!
Suzanne
Napolean beating up Sofie: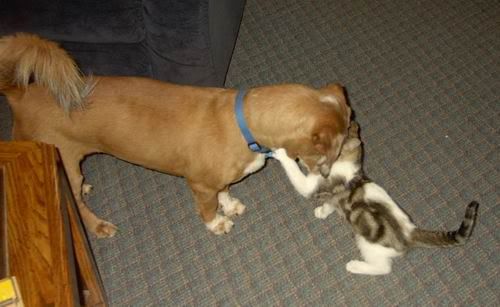 The day I got him: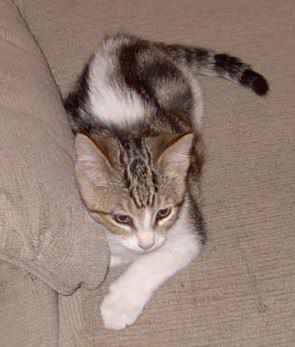 Napolean now: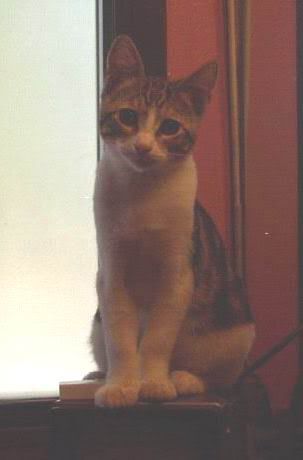 Napolean laying the smackdown on sof: