Weeble Gabriel Bennett "Weebie"
August 24,2005 - September 18,2005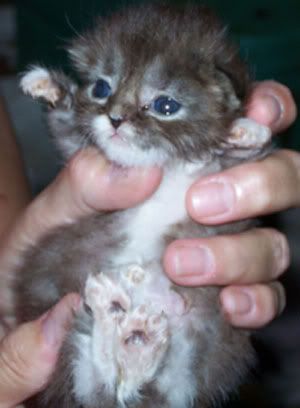 I had this wee one for 25 days. I knew he never really had a chance at life but I couldn't just let him starve to death. I took over Mom duties feeding him and keeping him clean and warm since he was 8 days old and his mother was trying to kill him.
Her behaviour broke my heart. I know it is just nature but I couldn't just sit by and watch it happen. He did well with me taking care of him until one day(Sept.18)he just quit eating and got real still. I had to attend my grandson's birthday party and when I returned home he was dead. The good Lord took him quickly and he did not have to suffer long. His little legs were severely deformed and I knew he would probably never walk. He also had a flat chest.
I still loved him very much and we had a special relationship. I miss him a lot but I know he is in a better place where he is happy and whole and healthy. He can run and play and not have to suffer with his deformaties.
To Weebie:
"I wish you all the love in the world...but most of all I wish it from myself"
Christine McVie(Fleetwood Mac)"Songbird"
MomCat Katie is scheduled for surgery(spay) on October 2. I am hoping and praying they will do her this time. She has been to be spayed twice before. I can't go thru this again. It is too heartbreaking.