Na... not really.
When he is in trouble he just looks at me with those big orange eyes and gives me a look like "Puss" in the movie Shrek 2 gives Shrek and Donkey.

so it doesn't do any good for me to get upset with him. Just wasted energy.
So he got caught opening the pizza box...And it was so funny b/c once he figured out how to open the box.. he actually held the box in his mouth and pulled it all the way back to open it (rested the lid of the box on the table) instead of just poking his head under.

As if he knew if the box wasn't opened all the way the lid would be on his head as he ate.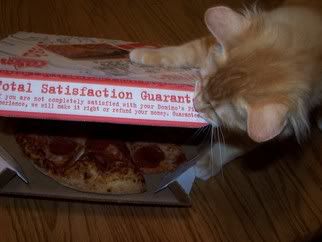 That silly boy.....